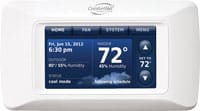 * Complete warranty details available from your local dealer or by clicking below on the Product Warranty link. To receive the 10-Year Control Limited Warranty, the control must be installed in conjunction with a new furnace or air handler containing a communicating system that is compatible with the control and, if that furnace/air handler is a Goodman® brand unit, that furnace/air handler must have been registered online within 60 days of installation of the furnace/air handler. Failure by Quebec or California residents to have registered a Goodman® brand furnace/air handler does not diminish their warranty rights.
CTK03 ComfortNet Communicating Control
The comfortNet CTK03 communicating control features a full color, digital touchscreen. In addition, it simplifiles installation of Goodman brand ECM-based gas furnace, air handlers, and 16 or 18 SEER tw-stage air conditioners and heat pumps.
This ComfortNet communicating control is applicable for residential and light commercial installations. It features user interaction logs that provide a searchable history of setting changes and configurable staging options.
This control is RedLINK enabled to work with the wireless RedLINK Internet Gateway, Entry/Exit Remote, Vent and Filter Boost Remote, Portable Comfort Control, Wireless Outdoor Themperature Sensor, Wireless Indoor Air Sensor and the HoneyWell TrueSteam humidifire* series.
*Wireless TrueSteam connectivity requires HoneyWell Wireless adapter.